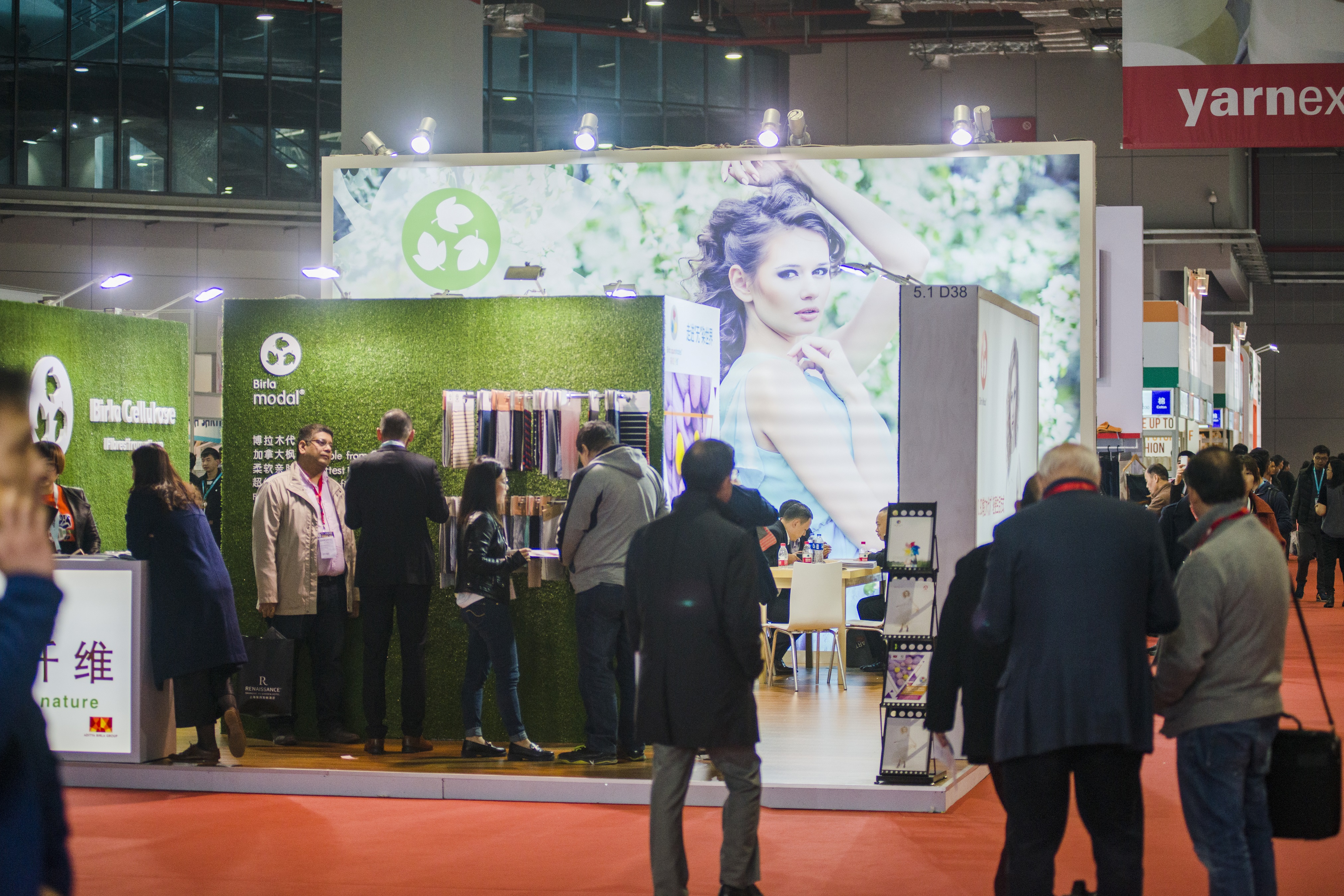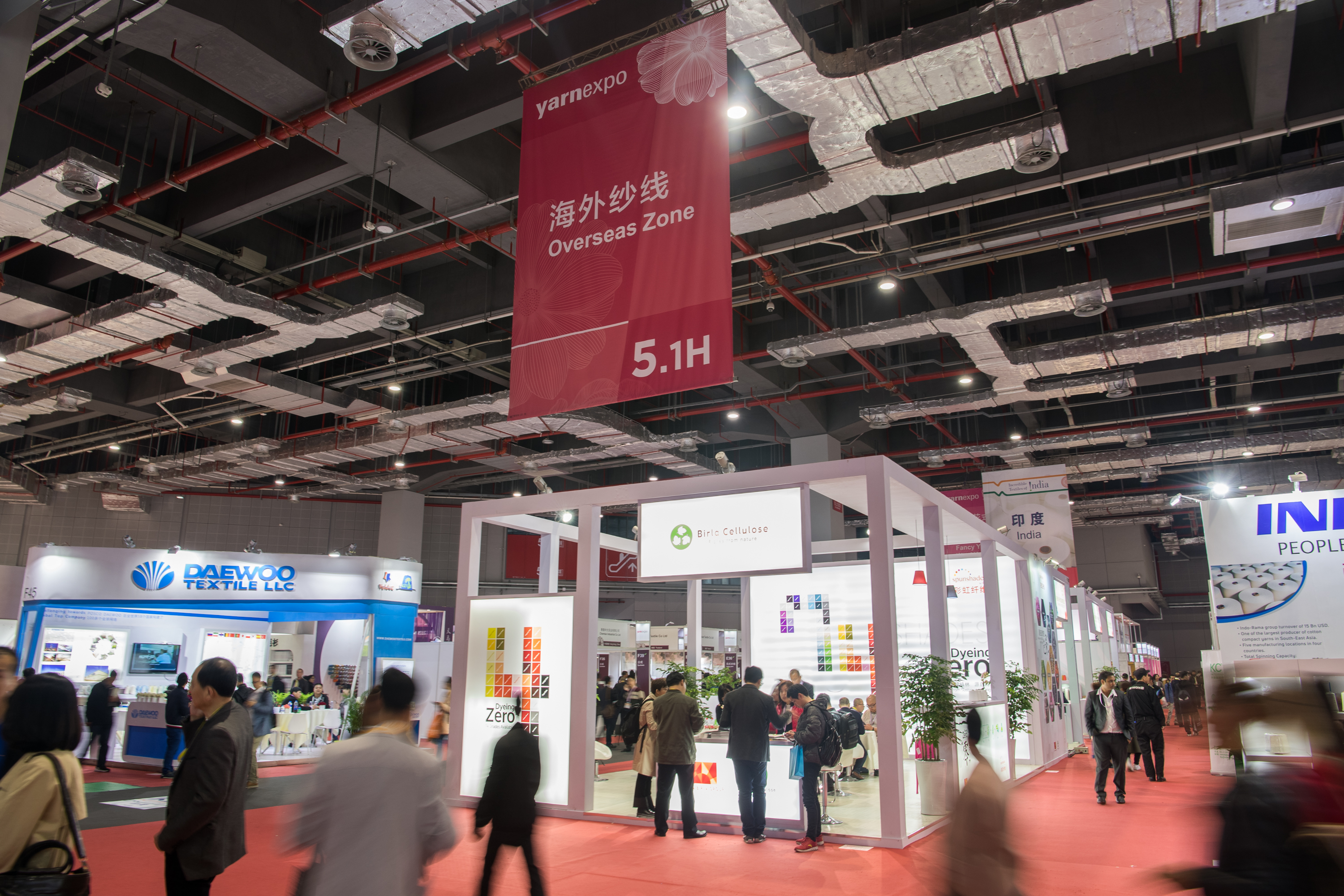 Birla Planet in the 2017 and 2018 editions of Yarn Expo Spring
At last March's Yarn Expo Spring, we grabbed a few minutes with Mr Sachin Malik, Senior Vice President (Sales & Marketing), Birla Jingwei Fibres between back-to-back client meetings in the bustling Birla Pavilion to discuss the present and future of the Chinese market, their plans for the future, and the role Yarn Expo will play in these.

Messe Frankfurt: Mr Malik, thank you for sparing the time from your busy day at Yarn Expo to talk to us. To begin, can you please outline how you see the current Chinese market?

Sachin Malik: The Chinese market is very competitive and challenging at present, but also very exciting because the speed of innovation and execution is very fast compared to other markets. People are open to new ideas and new products, and they are often faster in moving from a small idea or sample into a large business opportunity. The time required to develop a successful product or business in China is much shorter.
However, it's extremely competitive at the same time, and there is the possibility of products being copied. So you need to be unique in your offerings and always be innovating to come up with new products, as well as building relationships through the value chain so your brand's strengths will be recognised in the market.

MF: What products do you focus on for the China market?

SM: For this market, we focus more on our specialty products, such as modal, micro modal and spun-dyed fibres. These products have been doing quite well, and China is an important market for us for these products.


MF: There is a lot of talk in the textile industry recently about sustainability in China. How do you see the current situation, and has it impacted what you offer in this market?

SM: Over the last four to five years in China, we've seen a great impetus and thrust regarding environmental protection, and consequently there has been a lot of pressure on the textile industry, especially because of pollution resulting from dyeing. Day by day in China, regulations have become tighter and new policies are getting implemented, and as a result, the demand for eco-products is rapidly increasing. The increasing interest and more stringent requirements from buyers here at Yarn Expo also reflect this trend and the growing demand from the market.

That's why, early on for this market we zeroed in on our Birla Spunshades (heavy metal-free, coloured spun-dyed viscose fibre) which don't require dyeing, so we have developed a huge pallet of shades to promote in China. We are launching about 74 shades that don't require dyeing, and they reduce pollution significantly. This has combined with the push for environmental protection in China and been well received.
MF: What are the challenges of doing business in China?

SM: The biggest challenge in China is the competition, and over capacity, which can make it difficult to succeed if you just keep doing the same thing. In order to overcome this, you need to stay nimble, you need to keep your costs low, keep innovating, and keep building strong relationships with customers throughout the value chain.

But in saying that, the structure of the global industry is changing, so innovation or development is, in many cases, happening in China first because the entire eco-system exists here. There is no other country that can match the scale, the potential and capabilities of China. Therefore, everything starts from China these days. China is really a very significant market for Birla's specialty products. But we don't want to be a high-volume player here, we want to focus on our specialities.

"Our booth is always packed with people, including more high-quality buyers and international buyers also," said Mr Malik.
MF: Lastly, how has participating in Yarn Expo benefitted your business?

SM: Yarn Expo is a very important long-term platform for Birla to be present at, to be visible to the wider textile industry, and to connect to our customers and our customers' customers through the entire value chain. Each edition, we see more and more buyers in the fair, and more customers in the industry recognise the importance of this fair. With China being the largest market in the industry, Yarn Expo has developed into a premium event in the global textile industry calendar.

For this year's spring edition, we've seen results that match the larger autumn edition in terms of number of buyers. Our booth is always packed with people, including more high-quality buyers and international buyers also. Our pavilion members are also very satisfied with the visitor flow and their results this time.

MF: Thank you Mr Malik, and good luck for the rest of the fair!

Yarn Expo overview
With its unrivalled ability in attracting high-quality worldwide buyers, support from leading industry players, and benefiting from the synergies of concurrent international textile fairs, Yarn Expo is the industry's preeminent trade event in the world's biggest yarn and fibre consumption market. The spring edition held in March attracted some 430 exhibitors and 26,000 trade buyers in 2018, while the autumn edition in September features around 500 exhibitors and 17,000 trade buyers.

For more information about the fair, please visit https://yarn-expo-autumn.hk.messefrankfurt.com/shanghai/en/exhibitors/welcome.html.